Skip Navigation
Website Accessibility
Brownstone Quarry; Portland, CT:
Drive 30 miles S of the Connecticut border on Route 91 to LEFT exit #22 onto route 9. Go 5.2 miles to exit 16: turn R at light 0.1 mile; turn R at light onto Route 66. Go 0.7 mile, over the bridge and IMMEDIATELY after bridge, R onto Lower Main Street, down hill; 0.1 mile R onto Lower Brownstone Avenue. Quarry is 0.4 mile, on R. 161 Brownstone Avenue. If parking area is full, go down hill, unload and back up to street, to park. Do not block gates. $26 entry fee.
Entrance
Waiting for the Gang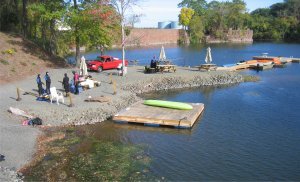 Gearing Up
Fort Wetherill; Jamestown, RI
Fort Wetherill
Mass Pike E to Exit 10a (Auburn) to Rt 146 S. Take Rt 295 S to Rt 95 S to LEFT EXIT 9 onto Rt 4 S to Rt 1 S. Then take Rt 138 E. Exit immediately after 1st Jamestown Bridge (Helm St exit), go 0.7 mi, & R onto North Rd, pass dive shop on R at 1.9 mi, then 0.3 mi farther to stop light & sign. Straight onto Southwest Ave, go 0.5 mi and SHARP L onto Hamilton. Go 0.7 mi to end, R on East Shore Dr. Go 0.5 mi, bear L, go 0.2 mi, Turn R into park and turn L, down hill to parking area near ramp. Do not block ramp! Dive either side, L cove is quite deep. Air at Ocean State SCUBA, in town. Water 10oF warmer than N of Cape Cod. Tropical fish found here in late summer.
Alternate dive site if waves are to high:
Greenbridge. Go back to 138, and continue E across second bridge. Immediately after the second bridge, turn R onto Rt 238. After driving thru cemetery, at first light turn R to Memorial Blvd (Rt 138 a) thru center of town., turn R at the Newport Bay Club onto America's Cup. Go 0.9 mi., turn L onto Carrol Ave. Go 0.8 mi., turn R onto Oceanview Ave. Go 1 mile. Water on both sides of road. Limited parking. King's Beach access is a short distance ahead on the left and has more parking.
Lots of checkouts
Talking it over
Greenbridge